• Former Fifa president resigned from IOC in December
• Havelange served as president from 1974 to 1998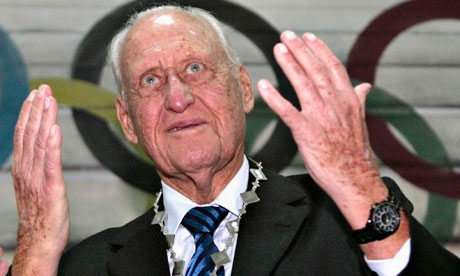 João Havelange, the former Fifa president, is seriously ill in a Rio de Janeiro hospital after suffering heart problems while recovering from an ankle infection. Havelange was treated last month at the hospital, where his condition was described as "serious", and fresh concern for his health has emerged after he was admitted to the coronary care unit.
The 95-year-old Brazilian resigned in December as a member of theInternational Olympic Committee, citing health concerns at a time when he faced possible suspension over allegations of payments received from the former Fifa marketing partner ISL. He served as Fifa's president from 1974 to 1998, when he was replaced by Sepp Blatter.
His latest health setback was confirmed in a statement signed by the hospital's cardiologist, João Mansur Filho. It read: "João Havelange remains hospitalised in Samaritano hospital, in Botafogo. According to the doctor, after a visit [on Monday], the clinical status of the honorary president of Fifa is serious.
"During the night [Sunday night] the patient had a cardiac failure and respiratory, and had to return to the coronary care unit. At present, the patient needs ventilation support [respiratory and cardiac], and is making use of medication to control blood pressure. The treatment with antibiotics, intravenously, is continuing."
While president of Fifa, Havelange expanded the World Cup finals from 16 to 32 teams and helped to make it the largest sporting event in the world, significantly increasing Fifa's power and wealth as a result.
Havelange also served as president of the Brazilian Sports Confederation, the body that controlled the national football team, from 1958 to 1975, the period that saw the country win its first three World Cup titles: 1958, 1962 and 1970.